I'm so excited to finally have a space in my house dedicated to plants! I call it my "crazy plant lady sunroom" and it makes me happy! I filled it with some of my favorite houseplants and planters on and under an antique wallpaper pasting table. See how I created my very own jungle with interesting pots, baskets and fun little surprises.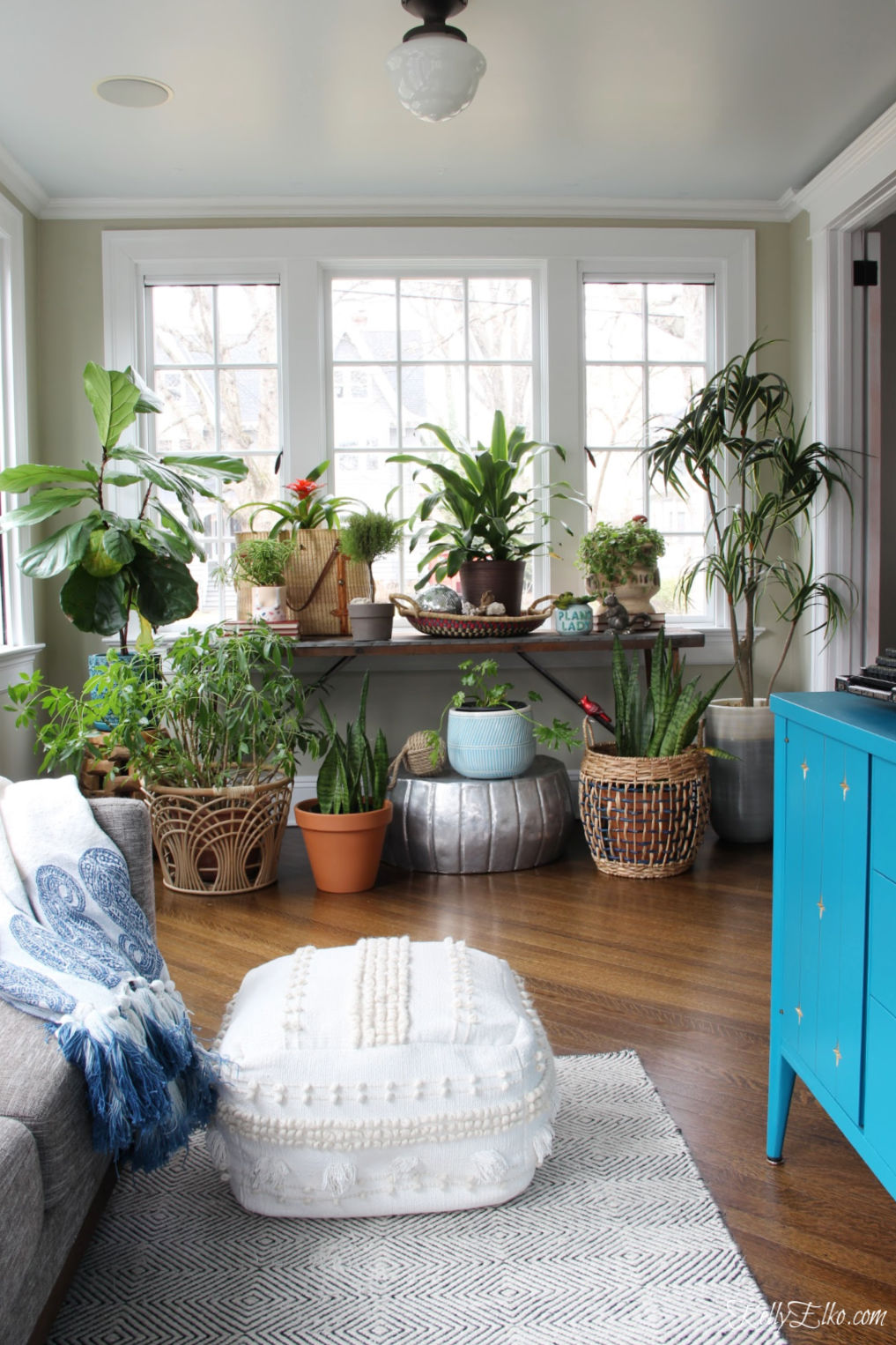 I've always loved plants and had tons in my first house (I even had a branch ladder over my kitchen island filled with hanging plants) but when we moved out of state, I sadly had to part with them and gave them to friends and family. Because I knew our move was temporary, I never filled my second house with plants and then I think I just got out of the plant groove. That all changed a few years ago, when I began to slowly add plants into my house because not only are they beautiful, but they help purify the air.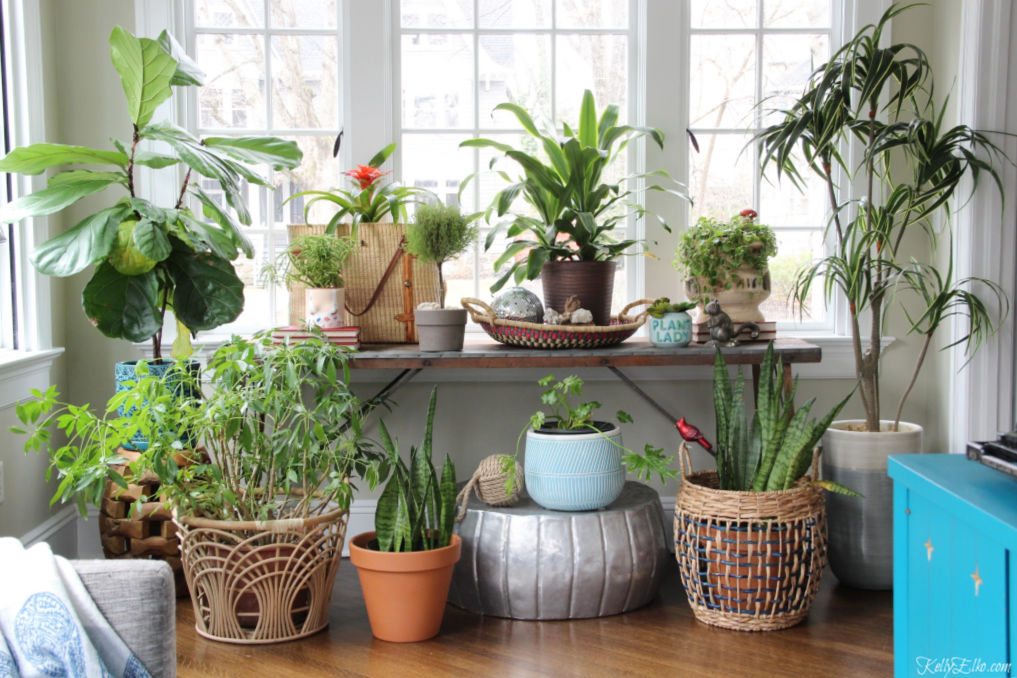 I decided that I want to only surround myself with things I love and use my spaces to better fit my needs so I did some furniture rearranging. Gone is the rattan daybed that used to reside here (I'll share it's new location soon) and in it's place went all of these glorious plants!
My old wallpaper pasting table is a favorite of mine and I decided it was a shame to let it languish in my basement so out it came too. I paid $90 for it but have seen them selling for up to $2300!
I feel like any time I have the chance to decorate with something so unique and non-cookie cutter, it's always a good thing. I encourage you to be on the hunt for one of a kind pieces for your home because every space needs something vintage that has soul and a story to tell.
I love searching Facebook Marketplace for vintage stuff and you can read my Facebook Buy and Sell Tips here.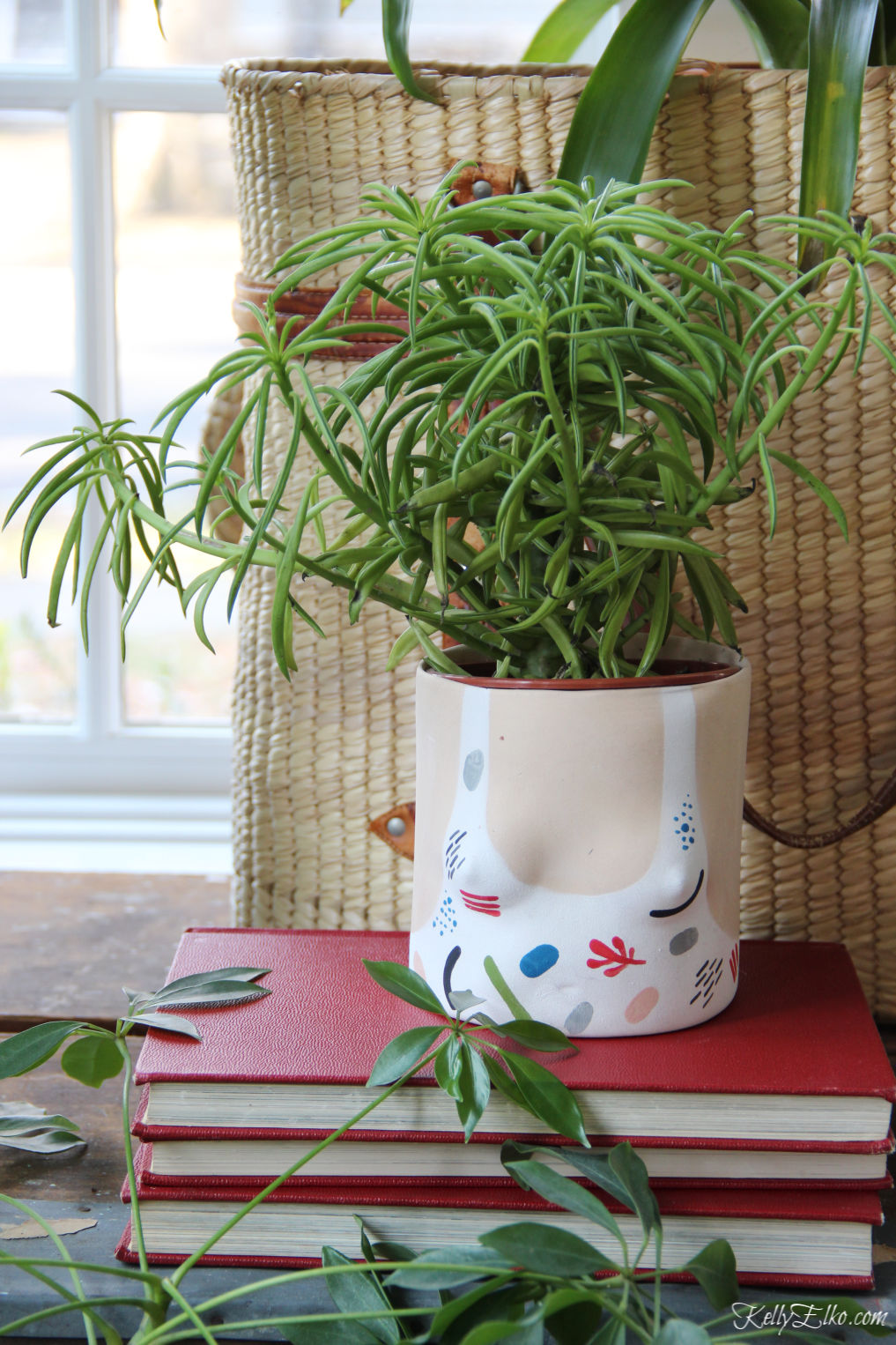 This post contains affiliate links which means if you purchase something, I will earn a small commission at no extra cost to you.
I love all of the texture from the different baskets and I threw in some colorful planters too. I found the bathing suit planter at a little shop while vacationing down the shore and the plant lady planter here.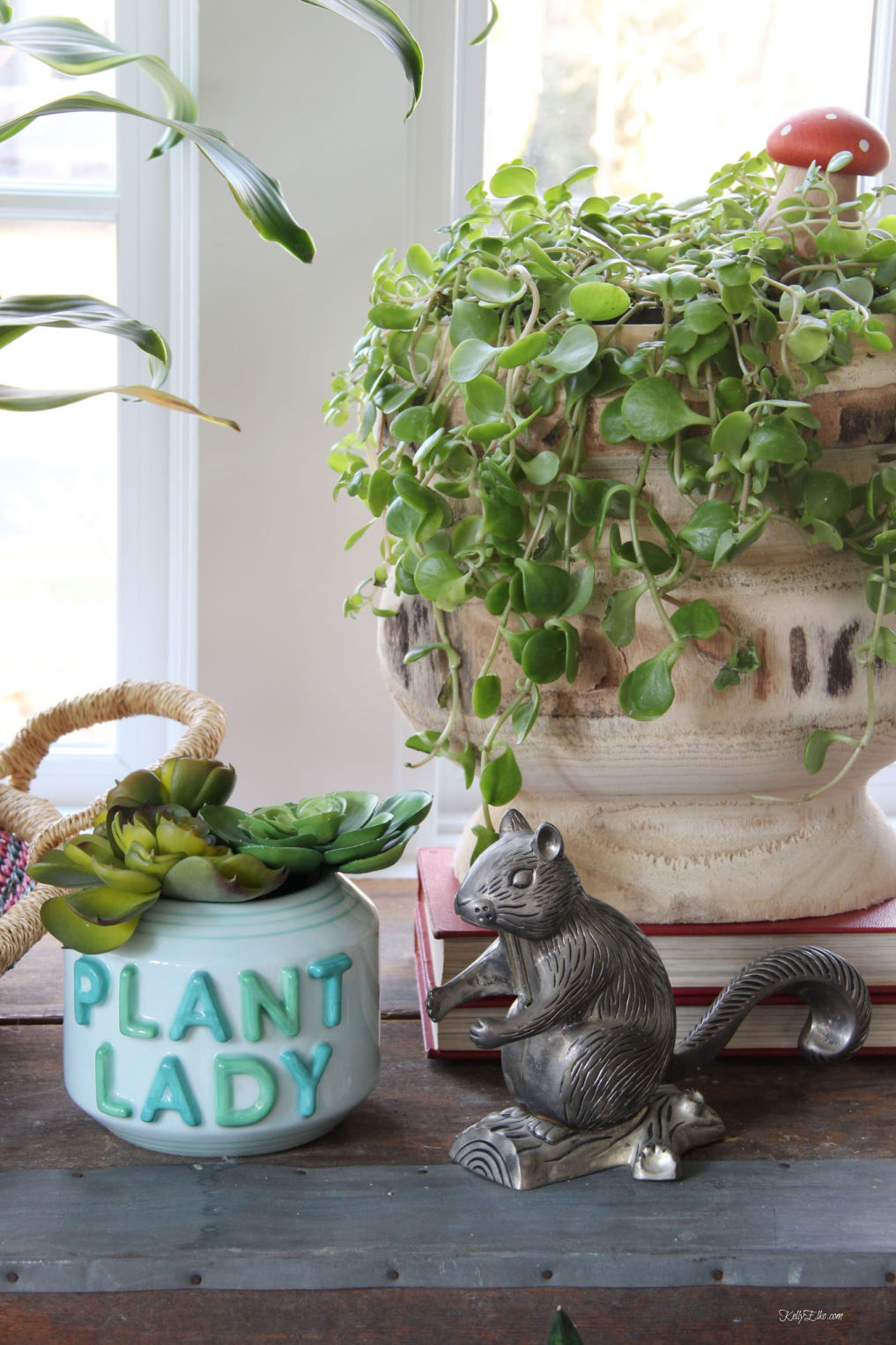 Did I mention I'm a 70's music freak and this disco ball channels my inner Diana Ross and creates quite the light show when the sun catches it just right.
Shop the Look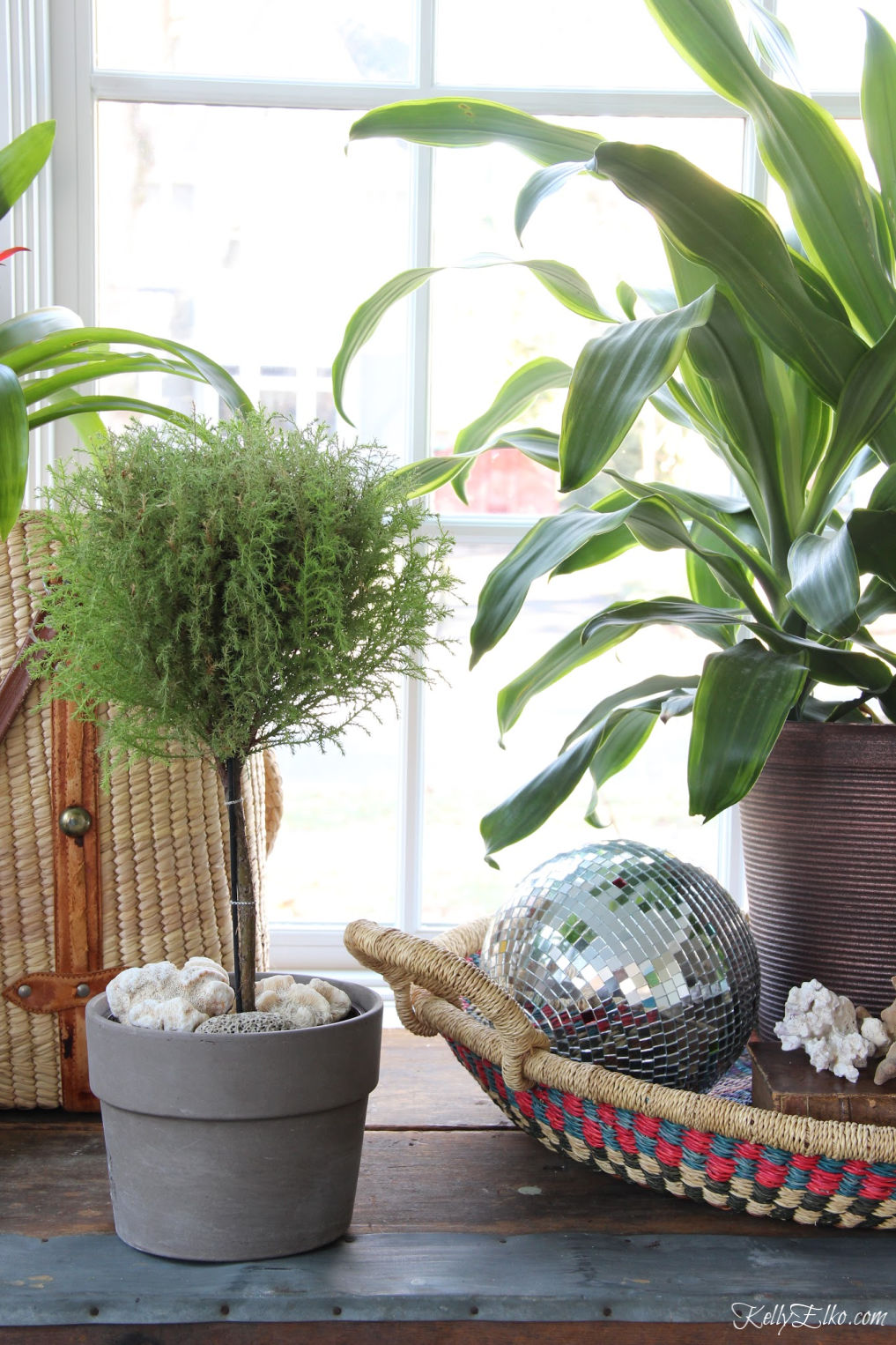 I love adding "filler" on top of the soil like these pieces of coral. This also helps maintain moisture in the soil. (Random fact: did you know 20% of the population hates the word moist)!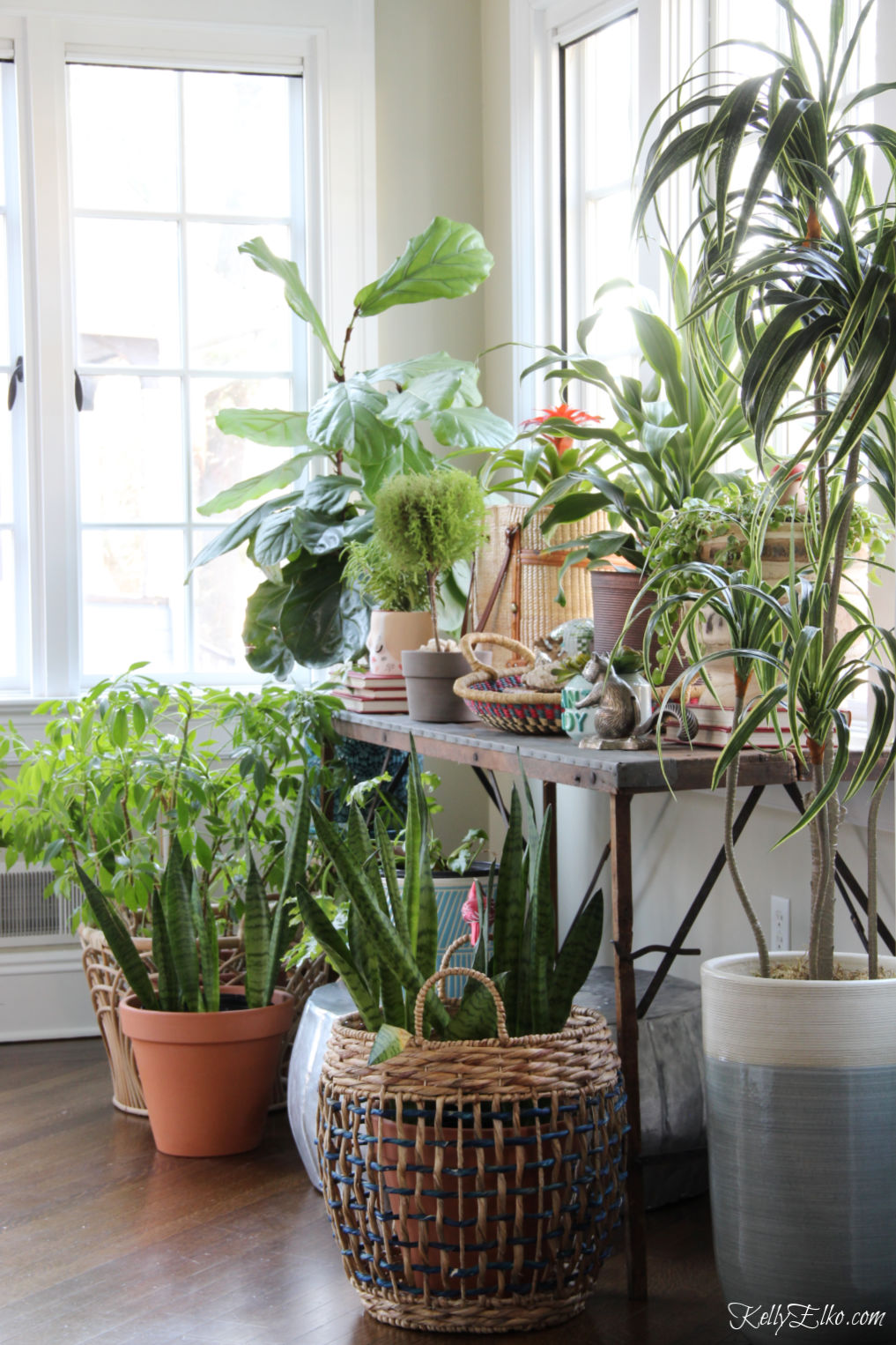 The sunroom is so welcoming now and I love that the plants can be seen by everyone walking by my house. They also create some privacy to my curtain-less windows.
I considered adding a few hanging planters but realize that I don't want to have to deal with taking them down to water them (I like giving my plants a good soak in the kitchen sink). I may change my mind; we shall see.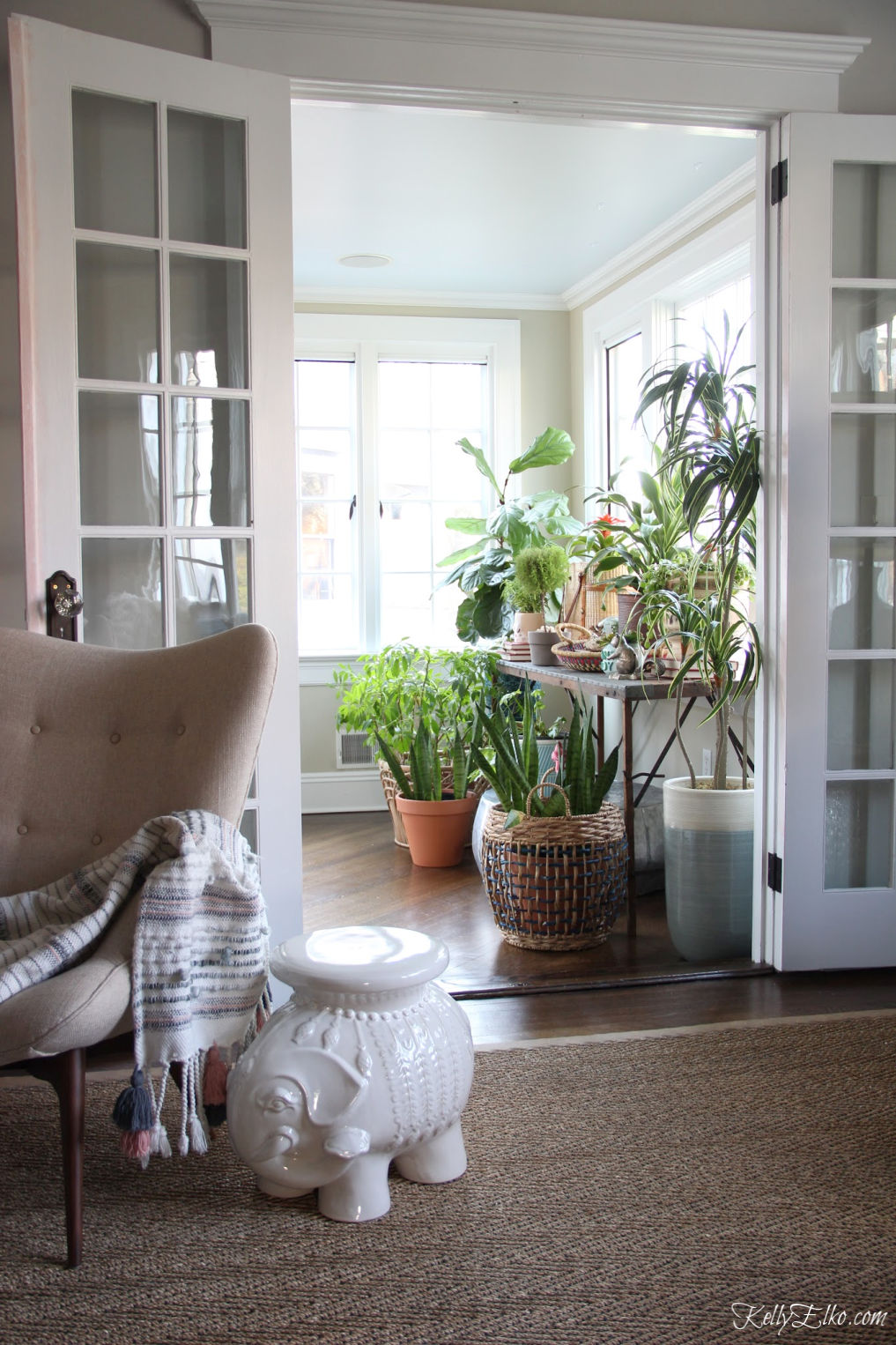 I'll have to clean up the rest of the sunroom so I can give you a proper tour but right now the desks are piled high with random stuff because contrary to popular belief, bloggers have clutter too!
I will be back soon with a post all about my favorite houseplants. In the meantime, I encourage you to add a plant or two to your house because they really do spark major joy!